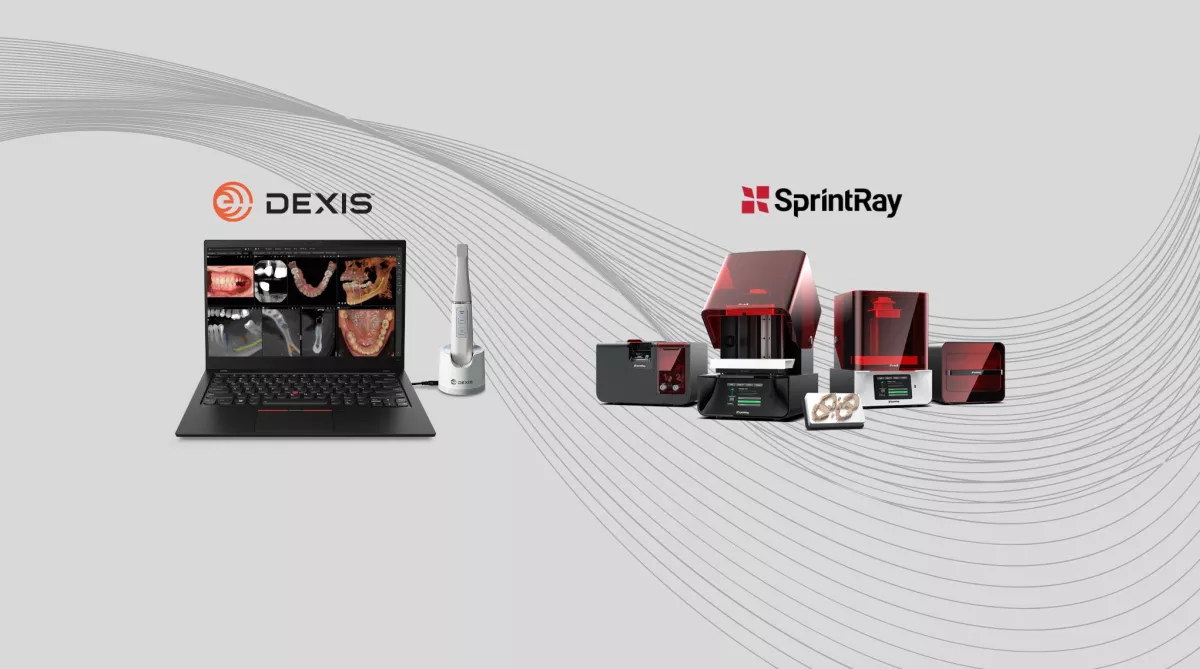 DEXIS™ IOS, DTX Studio™ Clinic and SprintRay™ Announce Strategic Integration and Commercial Collaboration to Streamline Digital Dental Workflow
Quakertown, PA & Los Angeles, CA - DEXIS IOS, a leader in dental intraoral scanning, DTX Studio™ Clinic, DEXIS' open, integrated dental software suite  and SprintRay, a leading provider of dental 3D printers, have announced a joint commercial and integration arrangement to enhance the digital dental workflow. This collaboration will integrate DEXIS intraoral scanners and SprintRay Cloud Design Services through DTX Studio Clinic, simplifying the design and fabrication of various dental indications such as models, crowns, bridges, and surgical guides for in-house printing. The arrangement aims to provide more efficient, accurate, and predictable workflows, ultimately leading to improved patient care.
To further provide dental professionals with a comprehensive and efficient solution for their digital imaging, treatment planning, and 3D printing needs, DEXIS IOS and SprintRay have collaborated to offer packages which include DEXIS intraoral scanners, SprintRay 3D printers and DTX StudioTM Clinic software. The companies will work to make their integrated solution more accessible and affordable to dental practices through these packages, facilitating its adoption.
"We are thrilled to work with DEXIS IOS to bring their advanced intraoral scanning technology to our customers," said Amir Mansouri, Co-Founder and CEO of SprintRay. "This collaboration will allow dental professionals to create accurate and detailed scans and produce high-quality appliances and restorations in-house with our cutting-edge design services and 3D printers, saving time and improving patient outcomes."
"DEXIS IOS is proud to work with SprintRay and bring our expertise in digital dental imaging to their innovative 3D planning and printing technology," said Amir Aghdaei, President and CEO of Envista Holdings Corporation. "Our goal is to collaborate to provide comprehensive solutions that improve efficiency, accuracy, and overall patient care."
This arrangement is an exciting development for dental professionals, and it demonstrates the continued commitment of both companies to improving the dental experience for patients and practitioners alike.
For more information about DEXIS IOS products and services, visit http://www.dexis.com or contact 888.88.DEXIS.
About DEXIS IOS
DEXIS IOS enhances the impact of dental expertise and clears away complexity from the digital workflow. Whether you are new to intraoral scanning or are an experienced advocate who wishes to upgrade, there is a DEXIS IOS Solution to precisely match your needs and provide simpler paths to better outcomes.
About DEXIS
DEXIS helps to transform practices and patient smiles — with a full portfolio of award-winning solutions for a comprehensive digital diagnostic workflow. From sensors to CBCT, intraoral scanning to implant planning, and NOMAD handheld x-ray to imaging software, practices throughout the world trust DEXIS for their digital imaging needs. Discover how DEXIS delivers for you. For more information, please visit http://www.dexis.com.
For Further Information
Hayley Reed, Regional Marketing Director, DEXIS IOS
Phone: (714) 628-8533
Email: hayley.reed@envistaco.com
About SprintRay
SprintRay is a leader in the dental 3D printing space, combining user-friendly design with highly functional tools for in-office production. The company sets itself apart with total alignment around one goal: to help dental professionals use 3D printing to revolutionize dentistry.
For Further Information
Matthew Thompson, VP Marketing
Phone: 800-914-9004
Email: mthompson@sprintray.com