DEXIS OP 3D Pro
The ORTHOPANTOMOGRAPH™ 3D Pro crystallizes the 50-year heritage of a legendary product family. It uses the latest in 3D and 2D technologies, for your benefit. The modern 3-in-1 platform's flawless design and versatility set the benchmark for whole maxillofacial imaging.
Want to see DEXIS OP 3D Pro in action?
The one for all your needs: ORTHOPANTOMOGRAPH™ 3D Pro.
The image quality of an ORTHOPANTOMOGRAPH, combined with DEXIS product excellence and maximum operating comfort: This is the DEXIS OP 3D Pro. High-precision 2D images with multilayer pan function and V-Shape-Beam Technology. These features combined with four individual image resolutions in 3D, five volume sizes, Automatic Dose Control and the innovative Low Dose Technology make the OP 3D Pro the ultimate choice for every X-ray indication — whether it is used as a standard 2D device or as a 3D device; with or without a cephalometric option.

OP 3D Pro Highlights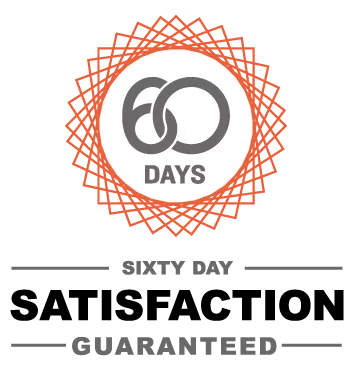 At DEXIS, we want you and your team to be confident and comfortable with your new technology. With our 60 Day Satisfaction Guarantee, we stand by you, and we stand behind the quality of our products.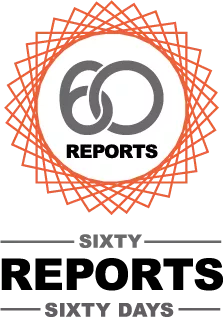 With the purchase of any new CBCT equipment, DEXIS and Beam Readers are teaming up to offer 60 radiology reports in your first 60 days of ownership. Whether you are new to CBCT or an imaging veteran, enhance your radiological and diagnostic capabilities as you incorporate your new CBCT into your practice.
Your benefits at a glance
3-in-1 X-ray device for an excellent and reliable investment
Very low radiation doses with Low Dose Technology™
Maximum flexibility with 5 volume sizes up to FOV 13x15 cm and 4 resolutions
Ability to compensate for incorrect patient positioning and difficult anatomies with Multilayer feature providing five panoramic images with only one scan
Automatically obtaining the most optimum panoramic image layer with ORTHOfocus™
Simple, intuitive operation thanks to the new touch panel user interface
Proven modular concept for maximum investment reliability
DTX Studio™ suite connects the devices and technologies in your dental practice or lab – in one single platform.

Radiation reduction with Low Dose Technology™
The innovative Low Dose Technology™ (LDT) of the DEXIS OP 3D Pro enables optimized quality in 3D X-ray images with a lower dose of radiation. For dose sensitive cases in particular, such as follow-up exposures or exposures of children, radiation reduction for protecting your patients represents indispensable added value.
Automatic adjustment of the radiation dose in exposures
ADC for 2D and 3D
Proprietary ADC technology automatically optimizes panoramic and 3D exposure levels for each patient and every acquisition, resulting in patient-specific dosage and enhanced workflow efficiency.
ASC
Automatic Spine Compensation optimizes the image quality through a dosage adjustment around the spine area.
AFC
The Automatic Facial Contour decreases exposure factors in the facial soft tissue region to provide improved visibility of soft tissue tracing points, in addition to a reduction in patient dose.
ORTHOfocus™
For consistent panoramic image quality, the ORTHOfocus feature obtains optimum image layer automatically — enabling forgiving patient positioning.
Five Field of Views —multiple possibilities
For all five volume sizes, you can choose from three image resolutions. For the 5 x Ø 5 cm volume, there is an endo resolution available. Each setting provides the perfect resolution in relation to the relevant indication. The five different volume sizes ensure reliable 3D diagnosis throughout the maxillofacial region.
5 x ø 5 cm
Local diagnostics:
Planning individual implants
Wisdom tooth extractions
Retinated teeth
With endo resolution for high-precision imaging of the canal structures and of the periodontium
6 x ø 8 cm
Illustration of one dental arch:
Planning multiple implants in one jaw
Drilling templates
* In the small panel (SFOV) version of the OP 3D Pro, only the 6 x Ø 8 cm is available.
8 x ø 8 cm
Illustration of both dental arches and parts of the maxillary sinuses:
Planning multiple implants in both jaws
Drilling templates
Sinus analysis in children
8 x ø 15 cm
Illustration of the upper and lower jaw region:
Illustration of the sinusitis maxillaris
TMJ diagnosis
Upper spinal column and respiratory tracts
"The 3D panoramic"
13 x ø 15 cm*
Illustration of the entire maxillofacial region:
Maxillary surgery
Orthodontics
TMJ diagnosis
Trauma diagnosis
ENT diagnosis
Integrated programs for optimized image quality
Four resolutions
Individually selectable resolutions from low dose to standard to high resolution. In the 5 x Ø 5 cm volume, there is also an endo resolution for high-precision imaging of canal structures and the periodontium.
Clearer images with MAR technology
The user-selectable metal artifact reduction (MAR) reduces the influence of scattered radiation, which emerge on high-density structures in X-ray volumes. This optimizes the imaging of teeth with filled root canals in particular.
Selected programs for exceptional diagnosis
The standard panoramic program provides clear definition of the dental anatomy including TMJs. For children there is a height and width collimation program for dosage reduction.
The Ortho Zone program provides a special geometry with a broad anterior layer for patients with extreme occlusive abnormalities.
Programs for lateral and frontal temporomandibular joint (TMJ) exposures with open or closed mouths.
Special program for bite wing-like imaging with specific segmentation and collimation.
From easy to simply self-explanatory. The new 10.4 inch touch panel
The operation of the DEXIS OP 3D Pro is designed so that all workflows are performed intuitively and in a matter of seconds. The clear structure and easy-to-understand symbols make the settings self-explanatory. Whether it is used for 2D or 3D exposures, the 10.4-inch touch panel enables simple and clear operation, affording operational reliability and impressive savings in terms of time.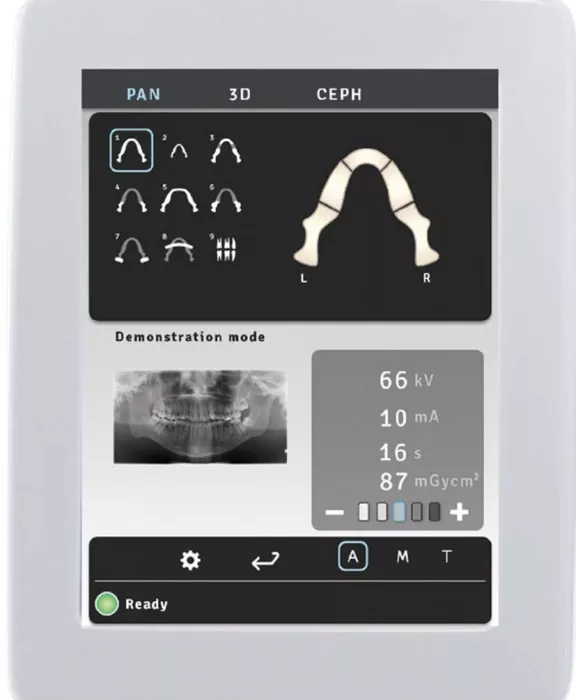 With SMARTVIEW™, you can see before what will be recorded later in 3D
With SMARTVIEW functionality FOV positioning accuracy can be verified or adjusted if needed before CBCT examination. Furthermore, the FOV can be positioned freely to the region of interest, both in horizontal and vertical directions — with ease and confidence.
Perfect, free positioning of the volume on the region of interest is performed directly through the touch panel
SMARTVIEW generates two 2D preview images of the region under analysis
Lateral cephalometric exposures can be generated at two different heights and with free width collimation between 17 and 26 cm
Posterior/anterior cephalometric image. The device's earpieces contain markings to ensure central positioning
For brochures and software, please visit the Download Center.
Product User Manuals, Product Technical Guides and Installation Manuals are all available at elabeling.dexis.com.