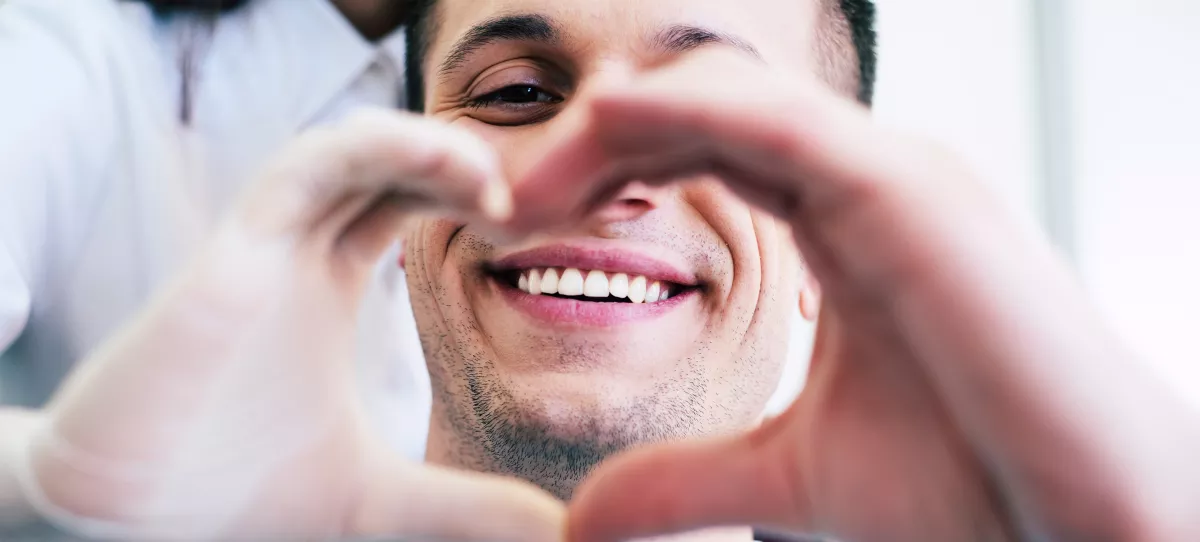 DEXIS Titanium Sensor and Software will help you get the most out of your imaging experience
The DEXIS Titanium Digital X-Ray Sensor and DTX Studio™ Clinic software work together to deliver crystal-clear images and an easy workflow, while keeping patients comfortable.

Imaging is an area of dentistry where both sides of the chair share the same goal--clinicians and patients want clear, crisp images for accurate diagnoses, and both desire a fast, comfortable process to obtain them.
DEXIS Titanium Sensor makes it easy for clinicians to capture crystal-clear diagnostic images, which means patients get better care. The PerfectSize™ of the sensor is preferred by patients due to its TrueComfort™ design. When combined with DTX Studio Clinic software, the imaging process becomes lightning fast and efficient, which means both clinicians and patients can be viewing intraoral images in just minutes.
Dr. Brett S. Silverman, DDS, MAGD, LLSR, in Alpharetta, GA, believes that the step up to the DEXIS Titanium Sensor several years ago was a major improvement in all ways--but the results have been even better than expected.
"It was a big leap forward for us," he shared. "It's a very noticeable difference. My threshold for making a change is that it has to be equal to or better than our current technology. I've compared the images side by side with our previous system, and the DEXIS Titanium Sensor is giving me much better clarity, contrast, and detail recognition," he continued.
"The ease of use, the simplicity of it, the efficiency I've seen in my workflow — it's just a great digital hub for patient images and I don't know what I would ever do without it!"
—Brett S. Silverman, DDS, MAGD, LLSR
Phenomenal image clarity
The DEXIS Titanium Sensor uses CleanCapture™ technology to produce images with an expanded dynamic range, providing ideal tissue contrast across a wider spectrum of radiation levels. In addition to superior image clarity and speed, the device is efficient, less noisy and comfortable for patients. The biteblocks hug the sensor and avoid gaps that can catch soft tissue during placement. The process is very fast, which is a plus for patients and staff.
Dr. Silverman said, "The process is very quick and I can see what I couldn't see before." He added that it was easy to use and that there was no learning curve whatsoever. At first, he only had one Titanium Sensor in the office, but then all of the hygienists wanted to use it because it gave them a better ability to see calculus so he ended up purchasing more sensors because everyone wants to use it. It's highly efficient, quick and easy, he explained.
Tough durable housing
DEXIS Titanium Sensor is built to withstand bite force and repeated impact and physical use. With its tough, durable housing and a robust cable made using Kevlar technology for tensile strength, the thermo-plastic resin can also withstand exposure to infection control chemical cleaners. For added office efficiency, each Titanium Sensor can be remotely diagnosed for optimal performance, alerting users to anomalies in sensor operation and preventing possible downtime due to repairs.
The DTX Studio™ Clinic difference
The next generation of DEXIS software, DTX Studio Clinic is a truly open dental care software platform that leverages assisted intelligence to improve clinical confidence and simplify every patient visit. From image collection and diagnosis through treatment planning and delivery, DTX Studio Suite improves patient understanding and acceptance; enabling better healthcare and optimizing your practice. The result? A seamless integration of the digital diagnostic and treatment planning processes, and a more efficient workflow. "We have 3 intraoral scanners from 3 different manufacturers, and we have a cone beam as well, plus all our x-rays and a caries detector," Dr. Silverman explained. "We use DTX Studio Clinic in our office because it's one location where everything can live together instead of having to use multiple software programs."
DTX Studio Clinic is a single digital platform software that integrates patient data from multiple sources and makes it accessible all at once. Many dentists report problems with using several software programs from different manufacturers, resulting in workflow inefficiencies. DTX Studio Clinic streamlines data for diagnoses and treatment planning from multiple software systems, allowing patients and clinicians to view all diagnostic results on one screen.
"It's very efficient!" Dr. Silverman said. "One of my favorite features is that if I'm diagnosing a problem on tooth No. 7, DTX automatically pulls up every image that was taken of that tooth, so I can see multiple views of the same tooth all at once," he explained.
"DTX Studio Clinic is a great product," Dr. Silverman concluded. "The ease of use, simplicity, efficiency I've seen in my workflow—it's just a great digital hub for patient images, and I don't know what I would ever do without it!"

The opinions presented are those of Dr. Brett S. Silverman. DEXIS is a medical device manufacturer and does not dispense medical advice. Clinicians should use their own judgment in treating their patients.