DEXIS™ OP 3D™
ORTHOPANTOMOGRAPHTM™ OP 3D is a powerful diagnostic tool for 3D imaging, panoramic, and cephalometric imaging. The OP 3D makes choosing your X-ray system simple. It is a complete X-ray platform that provides easy-to-use features throughout the entire dental imaging workflow.
With its versatile imaging programs and intuitive user interface, the DEXIS OP 3D in its different configurations offers imaging excellence for a variety of users, ranging from general dental practitioners to orthodontists, all the way to maxillofacial surgeons.
DTX Studio™ suite connects the devices and technologies in your dental practice or lab – in one single platform.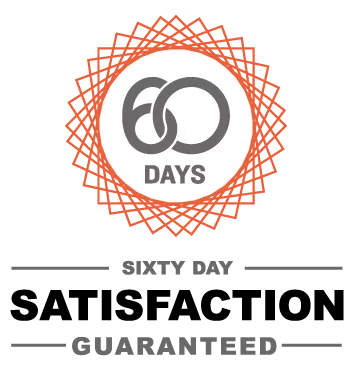 At DEXIS, we want you and your team to be confident and comfortable with your new technology. With our 60 Day Satisfaction Guarantee, we stand by you, and we stand behind the quality of our products.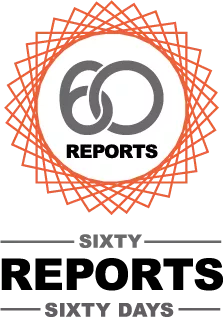 With the purchase of any new CBCT equipment, DEXIS and BeamReaders are teaming up to offer 60 radiology reports in your first 60 days of ownership. Whether you are new to CBCT or an imaging veteran, enhance your radiological and diagnostic capabilities as you incorporate your new CBCT into your practice.
QUICKcompose™ for fast image review, appearing automatically following the scan
---
Configurable device platform: Panoramic, Cephalometric and 3D imaging
---
Optimized imaging workflows and lead-free device
---
Designed for efficiency
Every feature of the DEXIS OP 3D is designed to increase practice efficiency. Preparing the device for a scan is fast with an easy patient positioning system and intuitive graphical user interface. All imaging protocols are optimized for practice workflows.
Intuitive operation, connected to the future
All functions can be easily and intuitively controlled in a time-saving way via your laptop or PC through the practice's local network. Only the patient positioning is set on the device.
Configuration
3D
4 resolutions for 3D (Low Dose Technology™ (LDT), Standard, High, Endo) combined with Metal Artifact Reduction (MAR) technology
4 predefined volumes: 5x5, 6x9, 9x11 and (optional) 9x14 cm - thanks to SMARTVIEW™ 2.0 the volumes are freely positionable and height adjustable in 5 mm steps between 5 and 9 cm before the exposure, leading up to 36 possible FOV sizes in total.
Panoramic
Fast Scan - 2D panoramic imaging in just 9 seconds
ORTHOfocus™ feature for providing the optimum panoramic image layer automatically
Panoramic programs for covering the daily needs of a busy practice
Cephalometric
Innovative and patented ORTHOceph™ Plus design with fast cephalometric imaging scan times and adjustable field sizes for perfect image quality with minimal dose
The DEXIS OP 3D can grow with your clinical needs
The DEXIS OP 3D is designed to be upgradeable, allowing it to grow with the needs of your practice. The cephalometric or 3D imaging capabilities can be added also later on.
Four predefined 3D volume diameters plus the possibility to customize the volume size
The four predefined FOVs of the DEXIS OP 3D are based on true clinical needs and adjustable in height. FOV 5x5 with its endo resolution is optimised for single-tooth and localized diagnostics. FOV 6x9 offers the capability of scanning either the lower or upper jaw, whereas FOV 9x11 combines both. With the largest FOV 9x14, TMJs can be conducted.

Metal Artifact Reduction (MAR): To provide optimum image quality, the Metal Artifact Reduction (MAR) is activated with all FOV sizes and resolutions of the DEXIS OP 3D. MAR is optimized to assist in all cases ranging from endodontics and implants planning to maxillofacial imaging.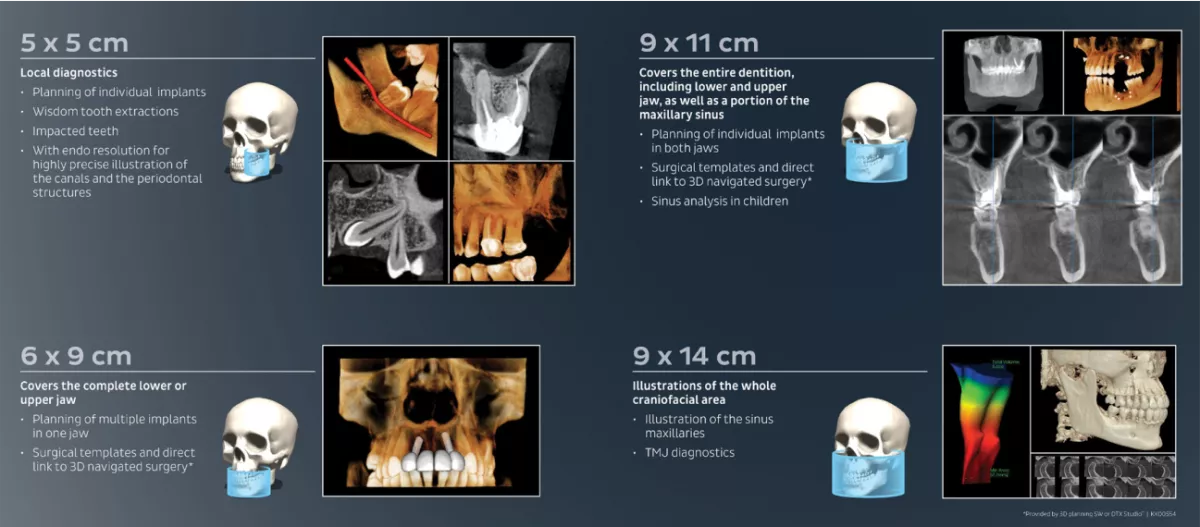 Panoramic images with automatically selected optimum layer - ORTHOfocus
Programs to fit your clinical needs: Standard, pediatric and segmented panoramics along with bitewing and lateral-TMJ programs are included to cover the panoramic imaging needs of a busy practice. With the ORTHOfocus feature, the optimum panoramic image layer is automatically obtained, enabling forgiving patient positioning. The result is consistent image quality every time.
QUICKcompose feature: fast image review
Available for panoramic, cephalometric and 3D modalities, the QUICKcompose feature offers a quick preview of the captured image, allowing a timely evaluation. The image appears on the graphical user interface automatically as soon as the scan is completed.
The referenced media source is missing and needs to be re-embedded.
Cephalometric imaging for all your clinical needs
The innovative, patented ORTHOceph Plus design of the DEXIS OP 3D takes cephalometric imaging workflow to a new level. The DEXIS OP 3D provides all needed protocols such as lateral and pediatric lateral projections with adjustable field widths, posterior-anterior (PA) projections and carpus (carpus holder is optional) imaging — with fast scan times and a minimal dose. All combined with an intuitive graphical user interface and automated sensor movements to enable smooth workflows.
DEXIS ORTHOPANTOMOGRAPH™ 3D - Product Overview
This overview video for the DEXIS OP 3D is designed to familiarize you with the hardware and software (GUI) features of the system.